*In our best announcer voice*
Looking for the 411 on the latest THB campaign?!
Well you're in the right place!
Who | A friendly cook-off competition hosted by THB Bagelry & Deli
What | THB Madness — A Cook-Off of ALL cook-offs between the THB Bagelry & Deli's neighborhood locations to find out who the has what it takes to create the yummiest new menu item. Plus, this gives your favorite THB location unlimited bragging right as the mastermind behind a potential new regular menu item.
When | This head to head competition will take place for a week in two separate waves; one through of different social channels and one through sales made by YOU, our loyal and daring customers.
Where | At every THB location! Each location will offer a completely new, exclusive to that location menu item. Are you a true THB fam member? We dare you to give each of these locations a try. ;)
Why | Simple! We love bringing our THB fam new and exciting menu items for you to try out. If any of these items are loved x10 there might even be a chance that it'll become a regular menu item.
So get out there, give these new items a try! Click below to leave a review for your favorite neighborhood location and these #bagelrydiculous menu items. Follow along on Instagram here and on Facebook here!
Interested in trying out these new neighborhood location specific menu items? Click the link below the images to online now! These items are also available through the myTHB app. These items are only available exclusively at the stores that created these items.
Order the Hot Italian exlusively at THB of Owings Mills, here.
Order the Pastrami Melt exclusively at THB of Timonium, here.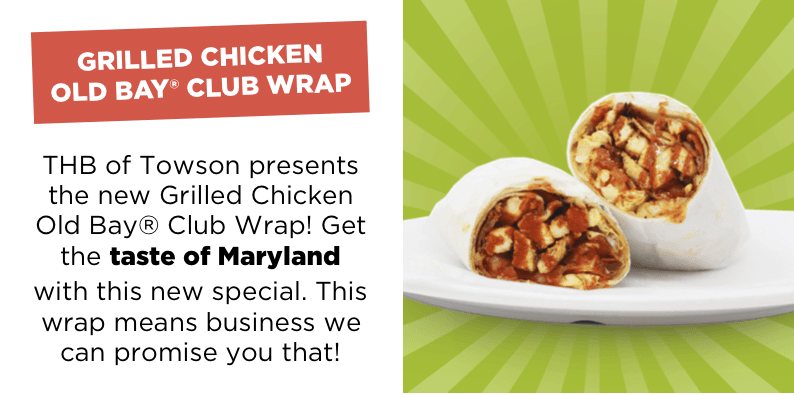 Order the Grilled Chicken Old Bay Club Wrap exlusively at THB of Towson, here.
Order the Everything Cream Cheese exclusively at THB of Charles Village, here.
Order the Grilled Chicken Monte Cristo exlusively at THB of Timonium, here.
Order the Turkey Tango exclusively at THB of Canton, here.
* These items are exclusive to their location. You will be unable to purchase any of the other new menu items at any store besides the home store. You can purchase these menu items either online or through the myTHB app.
Leave your review 

here

.