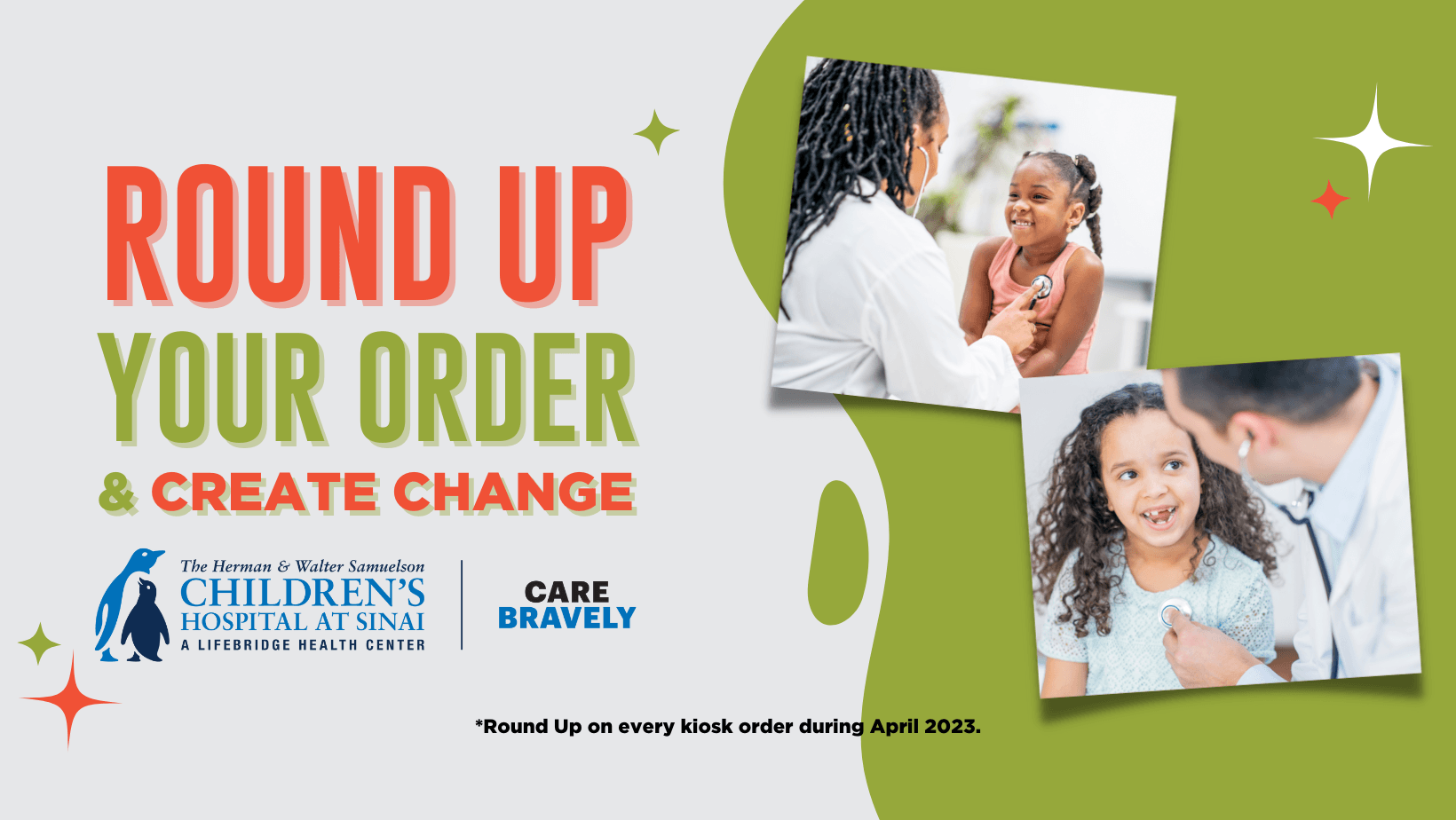 In April, LifeBridge Health and THB Bagelry & Deli partner again to raise funds for healthcare resources in the Greater Baltimore community. All month, THB guests ordering in store at kiosks will be able to round up their purchases to the nearest dollar with proceeds to benefit the Herman & Walter Samuelson Children's Hospital at Sinai.
"Our THB family lives and works in Greater Baltimore and our guests live here as well, so it only makes sense that the charities we support positively affect the Baltimore community, " said Tony Scotto, Owner and CEO of THB Bagelry & Deli. "Baltimore is who we are, and LifeBridge Health, like THB, is deeply invested in the health and well- being of our community and our neighbors. We can't think of a more noble cause than to support the good work that the Samuelson Children's Hospital does for children in Baltimore."
THB and LifeBridge Health partnered just last month with a portion of funds raised from THB's Maryland Day Bagels being donated to the health system's five hospitals and programs that support patients and the community. During Breast Cancer Awareness Month the past two Octobers, THB donated a portion of proceeds from the sale of its Pink Bagels to LifeBridge Health's local cancer centers, including the Lapidus Cancer Institute at Sinai Hospital and the Herman & Walter Samuelson Breast Center at Northwest Hospital.
"We are so appreciative to THB for their ongoing partnership and support of LifeBridge Health. The Samuelson Children's Hospital is a special place that provides family-centered care to thousands of children each year, with services ranging from general pediatric care to specialized cancer treatments. The hospital offers a range of programs to support children facing illness, and community support makes a huge difference for these families," says Kelly Meltzer, director of central services for LifeBridge Health Corporate Development department.
THB Guests can 'round up' using in store kiosks and via online ordering at all six THB store locations (Canton, Charles Villages, Columbia, Owings Mills, Towson, and Timonium) from April 1st to April 30th. Round up will not apply to orders placed on the myTHB app or through third party delivery services like GrubHub, DoorDash or UberEats.
About THB Bagelry & Deli

Since 1999, THB Bagelry & Deli has served more than 52 million bagels, 8 million eggs, and 6.5 million pounds of bacon in its six Baltimore-area locations: Canton, Charles Villages, Columbia, Owings Mills, Towson, and Timonium. Family-owned and locally operated, THB serves fresh New York-style bagels, sandwiches, salads, coffee, smoothies and so much more. THB has won awards for 'Baltimore's Best Bagels' for 14 years.
THB can now ship fresh bagels nationwide through online ordering available at eatthb.com. Follow THB on Facebook, Instagram, and learn more at eatthb.com.
About LifeBridge Health
LifeBridge Health is one of the largest, most comprehensive providers of health services in Maryland. LifeBridge Health includes Sinai Hospital, Northwest Hospital, Carroll Hospital, Levindale Hebrew Geriatric Center and Hospital, Grace Medical Center and related subsidiaries and affiliates. For more information, visit www.lifebridgehealth.org